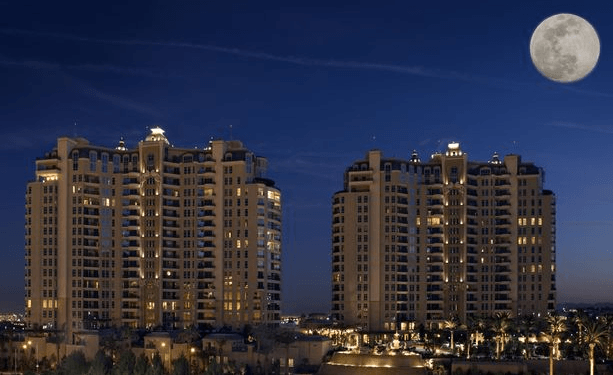 A luxury high rise community the likes of One Queensridge Place requires a lot of care and attention. While a great deal of effort was put into the conceptualization process to hand-select the finest quality materials to build One Queensridge Place, the aesthetics only tell half of the story.  The truth is, a lot of people work very hard around the clock to ensure that the experience of living inside of One QRP is simply the best for its residents.  Taking on the lead role in this process is Rich Govitz, General Manager of One Queensridge Place Homeowners Association, Inc.  When he joined the
team at One Queensridge Place nearly one year ago, he took on the responsibility with a very clear vision for the property that he was hired to oversee.
"My real ambition here is to make this the finest property west of the Mississippi," said Govitz.  "I really want to achieve perfection [at One Queensridge Place] and I'm still evaluating the property every day."
Prior to his time at One Queensridge Place, Govitz built up a resume that includes management duties at12 luxury hotels and properties.  In many ways, he likens the processes that go into creating a memorable, five-star experience for a hotel guest to the daily responsibilities of tending to the ongoing happiness of the residents of a luxury condominium community like One Queensridge Place.
"My real background is hospitality management," Govitz said. "I have carried over those experiences to approach the daily tasks at One Queensridge Place with the same level of service and attention."
While technically an HOA at its core, the team and initiatives that Govitz manages are unlike what many people think of when referencing the typical Las Vegas HOA.  According to Govitz, the entire concept is unique because "It's essentially homes on top of homes.  That in itself is very unique for this type of property."
It is because of the unique nature of the property that the One Queensridge HOA isn't your typical policy enforcement group that many associate with tasks such as handing out warnings and penalties for overgrown shrubbery.  In fact, Govitz and his team are in place to create the best possible experience for their "guests," just another way that the whole set-up is much like that of a luxury, five-star hotel.
Just like many modern resorts, One Queensridge Place has also been making the necessary steps in implementation to achieve a reputation of "green awareness."  One of the property's most prized accomplishments was the recent acquisition of Gold-level Lead Certification status.
As for what he would like to have his legacy post-tenure at One Queensridge Place be, Govitz states, "Whoever takes over the property, I hope they carry over my mindset.  I hope that they don't just treat it like a 'job.' I have put a lot of my heart here.  I genuinely care about the property and its residents and I hope that spirit continues."