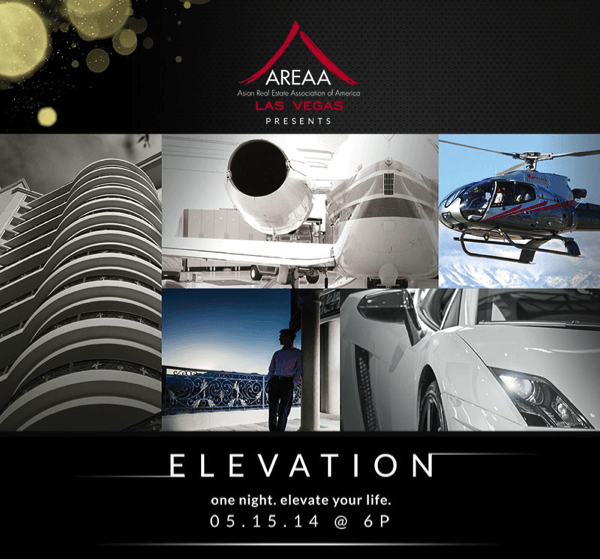 You just knew upon receiving your invitation and reading a dress code as unique as "stylishly elegant Bond theme," that AREAA (Asian Real Estate Association of America) was preparing for a special evening.  The magnificent event that was hosted in a private jet hangar of all places was aptly titled ELEVATION and offered its guests a sensory and educational experience that defined luxury and elegance.  Carefully planned and executed by One Queenridge Place VP of Operations, Randy Char, and Marketing Manager, Stephanie McGerty, the event featured a diverse panel of luxury experts in addition to featured dual Aventador displays by Lamborghini of Las Vegas as well as an open G5 Jet courtesy of hangar owners Corporate Flight International.
The evening began with a featured panel of five guest speakers discussing their current and previous experiences working up to and in different facets of the luxury market.  With Char acting a moderator, panelists included Sebastien Silvestri, VP of Food & Beverage at Venetian/Palazzo, Marilyn Spiegel, former president of Wynn/Encore Las Vegas, Josef Vann, publisher and VP of Sales at Vegas Magazine, Jim Gentleman, Sr. VP of Strategy at SK+G, and Jordan Shiraki, Director of Marketing at Lamborghini.  Each panelist brought their own unique perspective on what the expectations are from the consumer when it comes to delivering a luxury product or service in addition to their personal journey.  Their stories proved valuable to the engaged audience and couldn't help but be enhanced by atmosphere of the location's setting.
To ceremoniously bring the panel to a close, Char addressed those in attendance as well as the many sponsors that helped bring the evening together including Nevada State Bank, Corporate Flight International, Vegas Magazine, Aboslut Elyx, Lamborghini Las Vegas, Maverick Helicopters, Stitched, Piaget, First American Title, IMI Vegas and Furniture Market.  A $10,000 check was then presented as part of the evening's proceeds to local Las Vegas charity, Three Square.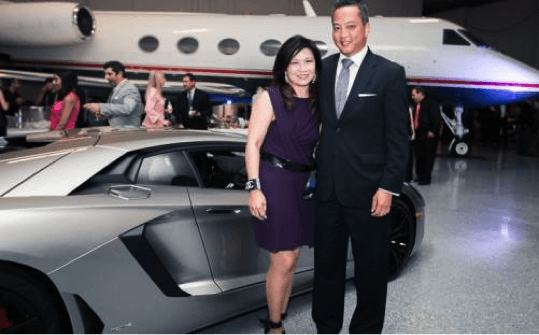 Afterwards guests were free to mingle and enjoy cocktails and hors d'oeurves while interacting with the prominent fixtures set around the showroom-esque floor.  At one point in the night, the music abruptly shifted and Las Vegas performer, Chris Staefe took the floor to enthrall the audience with a special LED poi spinning showcase that properly accented and assisted the ongoing energy of the occasion.