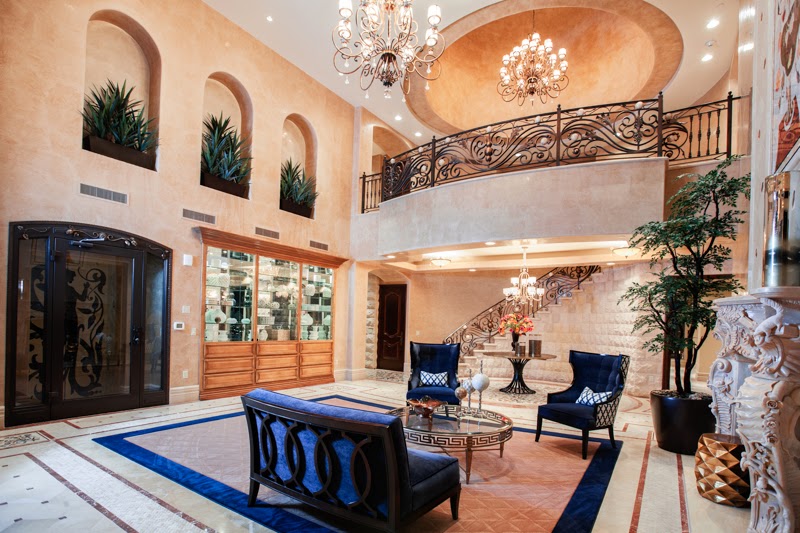 Las Vegas has always been known for making luxury more accessible than any other city in the world. Whether it's renowned entertainment, celebrity chefs, PGA-rated golf courses or five star accommodations, luxury has greatly influenced this city. Additionally, Las Vegas' lower cost of living ensures that one's money will go further here than other major cities around the world.
So exactly how does one of Las Vegas' truly iconic properties, The Crown Penthouse, match up against others around the nation? Let's take a look…
Las Vegas – The Crown Penthouse | $12.9 Million | 15,570 square feet
Never mind the fact that the luxury high rise community of One Queensridge Place itself acts as almost a beacon for Las Vegas residents when communicating around the city – it's architecture and stature make it that striking across the valley. But what stands out most are the three-story penthouses perched atop the two sprawling towers as well as their attention to detail.
As for features for a potential buyer, The Crown Penthouse boasts three terraces, luxury gourmet kitchens with Viking appliances, private showroom garage for up to 15 vehicles, 40-foot ceilings and more than 15,000 square feet of living space.
Miami – Porsche Design Tower Penthouse | $33.5 million | 17,000 square feet
Currently under construction outside Miami, the Porsche Design Tower will have two 17,000 square foot penthouses that are currently listed at $33.5 million each. The tower will feature a futuristic parking system in which residents can drive their vehicles into an elevator that leads to a "garage-in-the-sky." The vehicles will be viewable from inside the residences via a glass wall. The 57-floor, 132-unit building also will feature oceanfront views, but at a price that is nearly triple that of The Crown Penthouse.
New York – The Plaza at 1 Central Park South | $25 million | 4,283 square feet
The Plaza is a National Historic Landmark and offers beautiful views of Central Park. Owners can avoid the hotel lobby by entering their home via a private elevator or grand staircase and have access to hotel amenities such as a butler, nanny, doorman and concierge. But the cost of this private residence comes at $5,837.03 per square foot.
San Francisco – Villa | $24.8 million | 16,000 square feet
Las Vegas is known for having the latest and greatest. Most other major cities struggle with keeping up in this regard. San Francisco, for example, is home to a 16,000 square foot luxury villa with a gated driveway, four-car garage, elevator, stained glass skylight and views of the Golden Gate Bridge, but it was built in 1905. The residence is listed at $24.8 million and updating it would only add headaches and increase expenses.